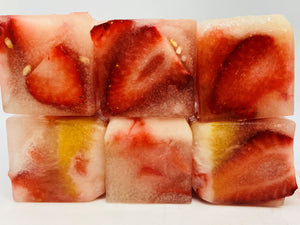 Pina Colada Cubes or Spears
Mmmmm... let these creamy pineapple coconut masterpieces transport you to a tropical vacation. You add the rum and pineapple juice or white soda (and the little umbrella). Choose traditional or strawberry.
Want to build your own flavor combo? Message us and we'll get right on it!
12 pieces per order.
* Please list fruit preference in special instructions at checkout
Choose from:
Strawberry
Blueberry
Raspberry
Blackberry
Kiwi
Mango
Coconut
Starfruit
Dragonfruit
Red Chili Pepper
Green Chili Pepper
Habanero
Jalapeno
Orange
Lemon
Lime
Cherry
Grapefruit
Watermelon
Cranberry
Pomegranate
Pineapple
Cucumber