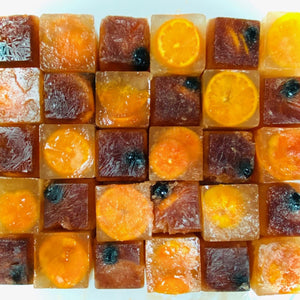 Old Fashioned/Manhattan Cubes or Spears
Top-sellers! Our Old Fashioned cubes are loaded with Luxardo cherries, aromatic bitters, and special oranges muddled to perfection. Add your whiskey/brandy, mix with sweet, sour or press and you'll have the "Best Old Fashioned in Town".
Manhattans more your thing? Allow us to freeze all of the traditional ingredients, plus a few of our own, so all you have to do is add your spirit. Easy!

12 pieces per order, per flavor.