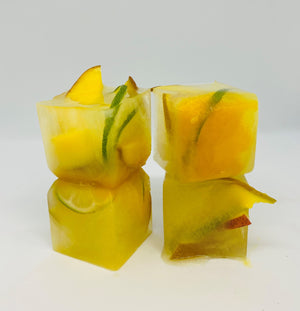 Margarita and Daiquiri Cubes or Spears
Our Margarita cubes are hand crafted by our talented mixologist for a next level cocktail experience. Add your favorite tequila or rum with sour soda or lemonade and you and your guests will be yelling "MAS!" Classic lime not your style? No problemo!
12 pieces per order. 
* Please list fruit preference in special instructions at checkout
Choose from:
Strawberry
Blueberry
Raspberry
Blackberry
Kiwi
Mango
Coconut
Starfruit
Dragonfruit
Red Chili Pepper
Green Chili Pepper
Habanero
Jalapeno
Orange
Lemon
Lime
Cherry
Grapefruit
Watermelon
Cranberry
Pomegranate
Pineapple
Cucumber