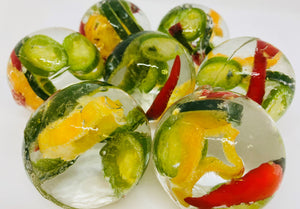 Clear LushICE - Pepper/Cucumber Collection
These peppered beauties are hot hot hot. We recommend them with our Bloody Mary cubes if you like it a little spicy. Want them all? The Pepper Sampler will spice up your drink and your life.
Not into the hot stuff? Cool down with our refreshing cucumber ice creations.
12 pieces per order. 
Choose from:
Red Chili
Green Chili
Habanero
Jalapeno
Pepper Sampler
Cucumber